The current bear market continues. In addition to a falling stock market, the crypto industry is also affected. The second largest token of the Ethereum platform Ether (ETH), measured by market capitalization, is also affected by the downtrend. An Ethereum (ETH) analysis shows the current opportunities and risks. In addition to the consideration of pure numerical values, use cases in particular can show opportunities for price recovery. A short-term chart analysis often focuses on the risks. The aspects of human actionism play only a subordinate role in this. However, the fear for one's own money in the current bear market should not be underestimated. The following article shows the trend of the Ethereum platform. Opportunities and risks are clarified.
ETH price development
On June 18 this year, the native token of the Ethereum platform, Ether (ETH), fell to a value of around 880 US dollars. This is the lowest point in the last 18 months. The following day, the token recovered to $1,150. The token thus increased by around 30% in one day and can remain at this level even at the beginning of the week.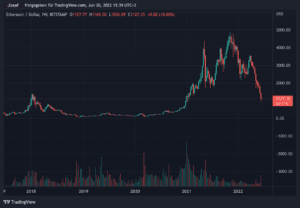 In order to be able to make a proper Ethereum (ETH) analysis with all its opportunities and risks, it is recommended to consider a longer period of time. The chart shows the development of the token over the past five years. It becomes clear that ETH has now reached the same level as at the former all-time high in January 2018. The mark around 1,000 US dollars therefore seems to represent an important support line, even from a historical point of view.
ETH – Soil formation not yet achieved
Peter Brandt is an experienced trader. He recognized the 80 percent drop in Bitcoin early in the bear market in 2018. He warns Ethereum investors through his Twitter account and paints a sinister picture. He expects a massive devaluation of 70% compared to current prices.
Brandt told his 661,800 Twitter followers that the leading smart contract platform Ethereum has broken out of a so-called "head and shoulders formation". As a result, ETH could be on its way to a very low chart target.
"The chart suggests a target of $300. Targets are not sacred – sometimes they are hit, sometimes not, sometimes exceeded. But for now I would not buy $ETH with my enemy's money $ETH"
The chart suggests a target of $300. Targets are not sacred – sometimes they are hit, sometimes not, sometimes exceeded. But for now I would not buy $ETH with my enemy's money $ETH pic.twitter.com/syZvhGxve2

– Peter Brandt (@PeterLBrandt) June 18, 2022
Similarly, in another tweet, the trader illustrates his confidence in the market. He explains that he sees Bitcoin in particular in the long-term trend in the bull market.
For the record
I'm long-term $BTC bull, believe narrative
From the beginning I've thought laser-eyed Hodl-forever love affair is lunatic
Any mkt that's had four 80%-plus DDs in 12 years is NOT an investment, but pure speculation
Marry a spouse, not a coin
Crypto is a bad religion

– Peter Brandt (@PeterLBrandt) June 18, 2022
ETH bear market is far from over
PostyXBT, an independent market analyst, also advised his 79,800 Twitter followers to watch the recent ETH price rally with caution. In a corresponding tweet, he noted that the movement was "a clean fakeout".
"It looks like an opportunity to flip long towards $1250 but $btc still hasn't reclaimed it's like for like level."
Stopped out on the reclaim of the level.

It looks like an opportunity to flip long towards $1250 but $btc still hasn't reclaimed it's like for like level.

Would make for a clean fake out. Be careful. https://t.co/Pyc1m0rDtq pic.twitter.com/fABVuPWGLn

– Posty (@PostyXBT) June 20, 2022
The prospects and prospects for the future ETH price are as colorful as the world itself. So, some of them talk about courses between 200-300 US dollars. Others see a "deep bottoming" at $ 700-800. And still others see the "Valley of Tears" already overcome. On the positive side, the number of active addresses has increased compared to 2018 and thus the adaptation is progressing.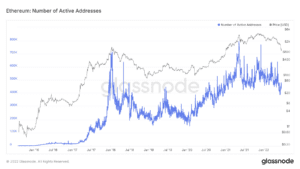 ETH Use Cases
While some are debating falling prices and their reasons, the Reddit community is concerned about the added value of blockchain technology. In addition to speculative measures and effects, the actual benefits ultimately play an essential role in the valuation of companies.
In the Ethereum subreddit, community members were asked which use cases could help the platform reach a market capitalization of $ 500 billion.
In one discussion, for example, the added value of the smart contract function when selling a property and the related payment was considered. The clear identifiability and the associated trustworthiness also play a decisive role.
In addition, the increasing importance of decentralized autonomous organizations (DAO) has also been applied to the establishment and organization of companies. Ethereum will play an important role as a global interaction platform. The elimination of third-party providers driven by technology, for example in ticket sales, also speaks in favor of the application of decentralized functions. Last but not least, Vitalik Buterin (Ethereum founder) explained the need for decentralization for trust and censorship resistance.
Where to use a blockchain in non-financial applications?https://t.co/T6jlAzCvew

Big thanks to @pujaohlhaver @shreyjaineth for review! You should also check what they have to say; they have some unique important perspectives that are beyond the scope of this post.

– vitalik.eth (@VitalikButerin) June 12, 2022
Conclusion: Come to stay
This short but useful Ethereum (ETH) analysis shows the opportunities and risks of the blockchain technology in an exemplary way. The current bear market, triggered by macroeconomic factors and technical failure of individual projects, will continue. Prices are in a downtrend. This is expected to continue for a longer time. But a recovery of the courses is also to be assessed positively. Short-term oriented investors, who were only looking for quick profits, have left the market again. Those who firmly believe in technology and its added value have stayed and will stay. The biggest advantage of the current bear market compared to previous ones is that there are significantly more institutional investors invested today. Even these will not go so easy.
The advantages of the blockchain are hardly refutable and are absolutely necessary in an increasingly difficult world. Decentralization is the necessary opponent of unjust centralized system. Especially useful in the fight against authoritarian states and their atrocities.
In order to be able to buy cryptocurrencies yourself and be part of this development, right now is the perfect time to get started. Or simply join ETH directly.